Scarborough Southwest is one of the ridings to watch! Several media outlets have been covering the election race out here, and this riding has become one that all eyes are focused on.
CP24 | Ridings to watch in Toronto
Tommy's also been busy fighting for accountability in this campaign, noting that current Toronto Police Chief Mark Saunders was present at Liberal candidate Bill Blair's fundraiser, held on August 28th at The Hilton in downtown Toronto.   According to the Ontario Police Services Act, this may have been inappropriate.
Read about it in the Toronto Sun
The media has made a lot of noise about Tommy, starting right after his nomination in Scarborough Southwest, for good reason.
Read about it in The Toronto Star
He is quickly becoming one the Green Party candidates of note, and he's been impressing local residents with his availability and down to earth approach. As Tommy would say, "I'm not a politician!" — a truth that is connecting him with the people in a way no other candidate is able to.
---
Keep an eye on our website for more upcoming newsletters and updates from Tommy as the campaign starts to heat up. And, save October 7th on your calendar. This will be our riding's all candidate's debate, where you can watch Tommy take on the other candidates in a live debate. This is your opportunity to get involved and learn where the candidates stand on the issues that matter to you.
And, as always, a campaign takes a lot of hard work from volunteers, as well as funding to make things happen. If you believe in the Green Party of Canada, Elizabeth May, and would like to support Tommy's incredible work on this campaign, no donation is too small. We appreciate all and every bit of support we receive. We also need volunteers as we are moving into our canvassing and events phase of the campaign.
We believe in Tommy and his ability to bring change and accountability to our riding. With your support, we can looks towards a Green future for Scarborough Southwest, and all of Canada!
LOOKING FOR VOLUNTEERS
We need volunteers to get on the canvassing trail with us and to help out at events.
DONATIONS
We need your support! Running a successful campaign incurs many costs, and we simply don't have the resources of the other 3 parties.   What we do have is a core team of dedicated volunteers who are working day and night to make Tommy's campaign a successful one. If you believe in the Green Vision for Canada, make a donation to Tommy's campaign, and let's send another Green to Ottawa!
DONATE NOW
REQUEST A SIGN
Our campaign signs have been ordered and will being delivered soon. We're not ones to boast, but we have to say they look great, and would be a good addition to any Green lawn. To request a sign, fill out this form, and a volunteer will be in contact with you. Depicted below is the actual sign.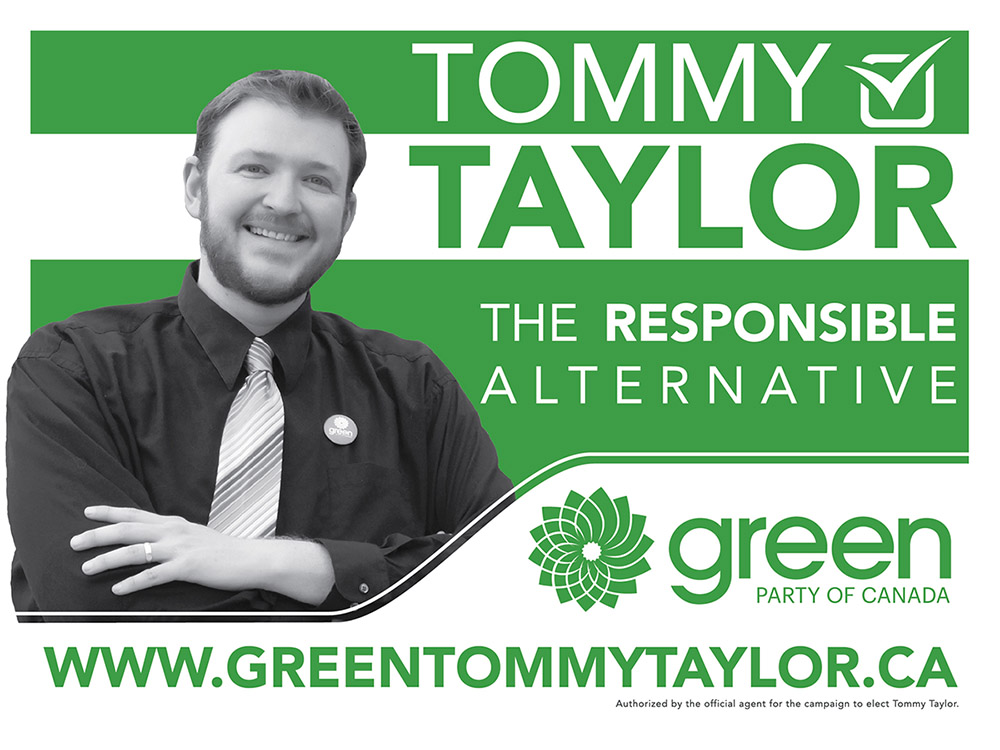 HAVE A QUESTION?
Tommy is available to answer any questions you may have regarding policies, the Green Vision or any concerns you may have. Give him a call, or send him an email with your comments, and he will personally return them.
green.ssw@gmail.com | (416)243-5315
ALL CANDIDATE'S MEETING
October 7th, 6:30pm to 8:30 pm St. Paul's United Church 200 McIntosh St  (Kingston Rd. & Sandown)
*Sponsored by St. Paul's & Scarborough Residents Unite