When:
August 4, 2015 @ 6:30 pm – 8:15 pm
2015-08-04T18:30:00-04:00
2015-08-04T20:15:00-04:00
Where:
Taylor Memorial Pubic Library
1440 Kingston Road
Scarborough, ON M1N 1R3
Canada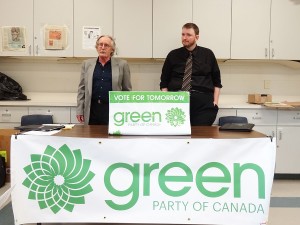 This is our announcement of a second Green Party of Canada – Scarborough Southwest Nomination Meeting to select our candidate in the upcoming federal election of 2015. As the nomination meeting of July 21 failed to select a candidate, due to a tie vote, we will be holding a new nomination meeting with the three original nominees:
Lindsay Thompson, Richard Hennick, and Tommy Taylor
When:
Tuesday, August 4, 6:30pm to 8:15pm* (see below)
Where:
Taylor Memorial Pubic Library
Meeting Room ( straight ahead from the main entrance to the north side of the building. )
1440 Kingston Road ( at the northwest corner of Kingston Road and Warden Ave. )
Directions:
Take either 68A Warden South bus or 68B Warden South via Birchmount from Warden Station, or the 12A, B or C Kingston Road bus from Victoria Park Station.
To be eligible to vote you must have been a member at least 30 days prior to the meeting and live in the riding of Scarborough Southwest.
Lapsed members can renew their membership up until the Nomination Meeting.
* We will start registering voters at 6:25pm and call the meeting to order at 6:35pm. We hope to have our candidate selected by about 7:45pm, and end the meeting shortly thereafter. In the unlikely event that there is another tie vote, we will allow more questions from the membership, and hold a second ballot, in which case the meeting may extend up to 8:15pm.