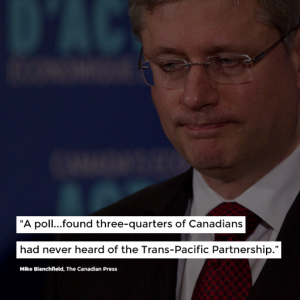 (NANAIMO) September 8, 2015 – Elizabeth May, Leader of the Green Party of Canada (Saanich–Gulf Islands), today called for Canada to reject any new investor-state agreements (often referred to as FIPA's–Foreign Investor Protection Agreements), re-open and withdraw from existing ones, and pass laws to ensure public disclosure of FIPA threats.
"NAFTA was the first trade deal to include a provision giving rights to foreign
corporations to seek damages against governments. These so-called 'investor-state' agreements are a threat to democracy. Since NAFTA these FIPAs have proliferated all around the world," said Elizabeth May. "Often confused with trade agreements, or even hidden within trade agreements as in the case of NAFTA's Chapter 11, these investor-state provisions are not about expanding trade. They are about reducing the sovereignty of nations and expanding the power of corporations.
"FIPAs allow foreign corporations to sue governments in secret arbitrations if any action
is taken at the municipal, provincial, or federal level, or through decisions by First Nations or our courts that reduce a foreign company's expectation of profits. The action need not be discriminatory or unjustified. If it reduces the foreign corporation's profits, nation states can end up paying millions or billions to a foreign company. Meanwhile, domestic corporations have no such rights."
"The worst of these FIPAs is the one with the Peoples' Republic of China, ratified by an Order in Council. No hearings were held in Parliament and it is not even clear if the Cabinet actually met to ratify the lop-sided and dangerous deal binding Canada for 31 years. Canada will be unable to exit the treaty without Beijing's permission until 2045," said Elizabeth May.
"Stephen Harper signed the Canada-China FIPA in September 2012 at a meeting in Vladivostok with President Hu of China. It was ratified in 2014, despite the fact the First Nations challenge to the treaty was before the Federal Court of Appeal," said Green candidate
Brenda Sayers (North Island–Powell River). Brenda Sayers led the Hupacasath First Nation of 300 people in the only court challenge against the Canada-China FIPA. She and the Hupacasath bravely stood against the wholesale sell-out of Canada's sovereignty to the People's Republic of China.
"Canada is now locked into a 31-year deal with China, giving Beijing the right to seek damages against Canada in secret for billions of dollars for anything it alleges gets in the way of their State-Owned Enterprises making a profit. The Green Party is the only party that consistently opposes such agreements," added Brenda Sayers.
"International trade and investment agreements affect our lives much more than most Canadians know," said Green Party International Trade Critic and candidate Paul Manly (Nanaimo–Ladysmith).
"Provincial or municipal programs could be affected by international agreements that put
the rights of multinational corporations ahead of the rights of Canadians. It's important for people to understand the insidious and anti-democratic nature of such agreements. It is even more important that we take actions to reduce the threat," concluded Manly.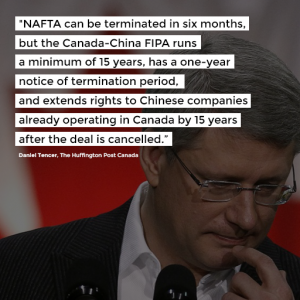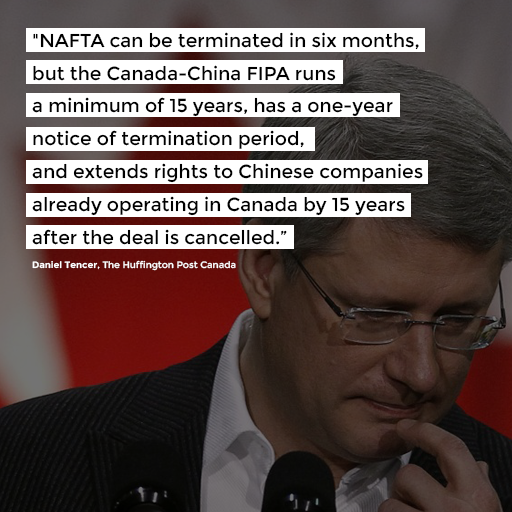 Today the Green Party announced its commitments to fight FIPAs:
• pass legislation to require that any and all complaints from Beijing under the Canada-China FIPA, even early diplomatic complaints, to be made public;
• to fight for our laws and push back against complaints from SOEs from the People's Republic of China;
• if Beijing complains about a municipal by-law or proposed legislative change, such as reversing the damage to the Fisheries Act, Environmental Assessment or Navigable Waters Protection Act, we will not cave; and
• to aggressively defend Canada's policies and decisions, and, if we must, to write a cheque for damages under FIPA, rather than cancel planned laws or repeal existing ones.
We will vigorously oppose the Trans-Pacific Partnership (TPP) and the Comprehensive Economic Trade Agreement (CETA), both of which contain new FIPAs.
For additional information or to arrange an interview, contact:
Tommy Taylor
Candidate, Scarborough Southwest
Green Party of Canada
416.243.5315

tommy.taylor@greenparty.ca